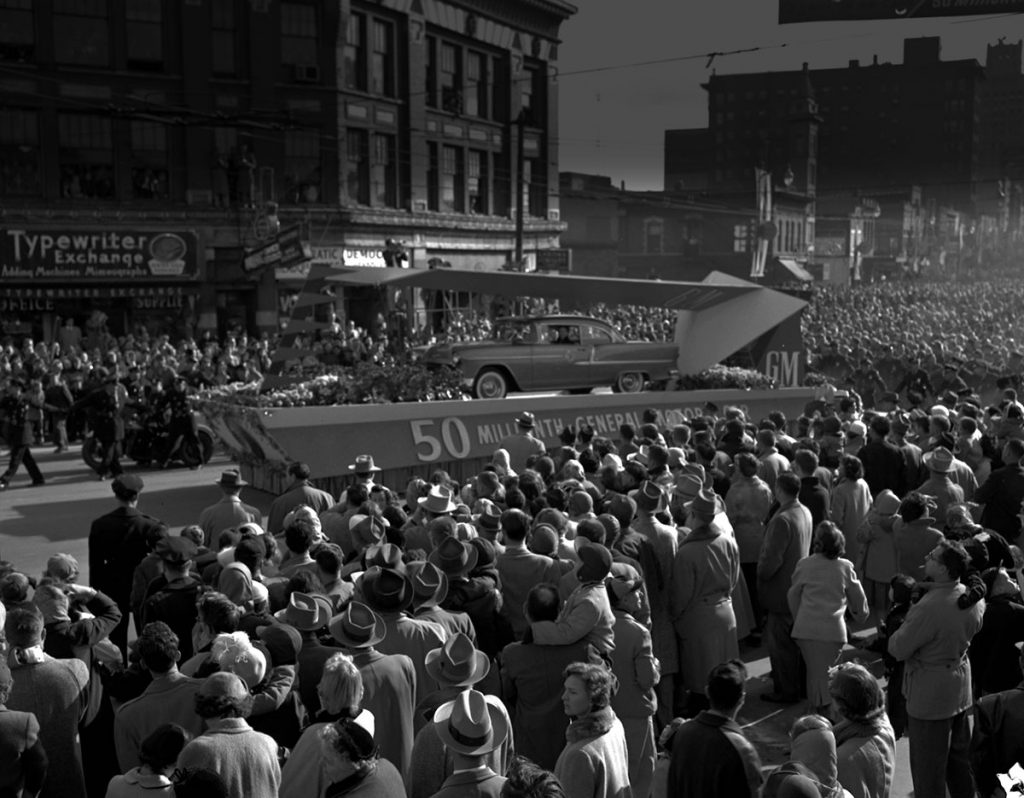 President Curtice Salutes Co-Workers at Ceremonies Marking Historic Milestone
FLINT, Mich., Nov. 23, 1954. – The 50 millionth automobile produced in this country by General Motors rolled off the assembly line of its Chevrolet Motor Division today.
President Harlow H. Curtice headed a delegation of General Motors' top executives who took part in the ceremonies marking the occasion. Chevrolet production employees and representatives from other divisions also participated.
"You have achieved a feat that is unique in America's entire industrial history," President Curtice told his listeners. "No one before this has even come close to producing 50 million cars."
The 50 millionth General Motors automobile – the total includes trucks and buses as well as passenger cars, all built in the United States – is a 1955 six-passenger hardtop Chevrolet Bel Air Sport Coupe.
No accomplishment like the building by General Motors of 50 million cars has ever before been achieved. But the building of 50 million cars is far more than a benchmark of production. Above all the achievement signalizes what can be done in an economy that encourages the free exercise of initiative by individuals, the free pooling of resources, the free collaboration of many hands and minds in a common task.
That task has been and continues to be to serve the American customer well; to give him ever better values for his dollar. It is a tribute to those countless men and women all over America who shared in the job – employees, suppliers, suppliers of suppliers, dealers and stockholders – who between 1908 and 1954 furnished the initiative, the resources and the cooperation needed.
General Motors' first 25 million cars were built in 32 years. Customers called for another 25 million within 14 years. The size of the job grew as the years progressed – and with it the opportunities for all concerned.
Now, as General Motors starts on its second 50 million cars and trucks, the opportunities ahead – for service and accomplishment – are greater than ever before.

Further reading:
General Motors Build It's First 50 Million Cars booklet